Design That Makes a Difference
Small yet Powerful: powered by 2 units of 1.5V AAA batteries, the screwdriver goes up to 160 rpm (load free) and could drive 10,000 cell phone screws.

Simple and Easy: designed with minimalistic aesthetics, this ergonomic pencil-shaped electric screwdriver has only 2 buttons. Press to start and release to stop.

Over Drive Protection: when reaching its max torque, the screwdriver stops automatically, preventing any damage to the screw and itself.

Seamless Transition from Auto to Manual Mode: after it reaches its max torque and stops, go ahead and drive it manually, no switching needed.

Big Collection of Bits: 18 magnetic S2 steel bits included, strategically selected for watches, cell phones, cameras, drones, toys, computers and small appliances.

Compatibility: international standard 4mm hexagon bit port accommodates a big variety of bits.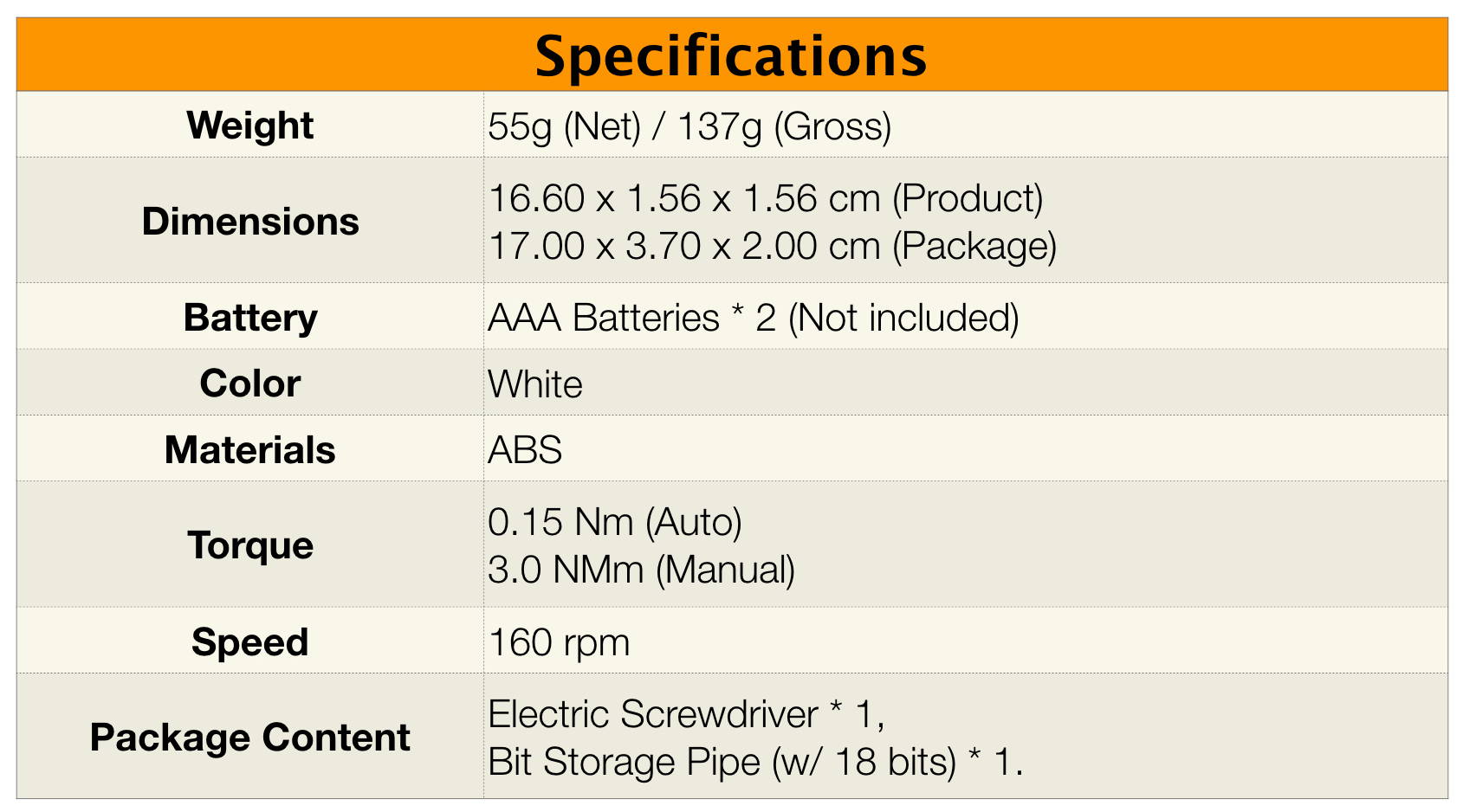 FREQUENTLY ASKED QUESTIONS
Where do your products come from?
We only source merchandise from socially responsible businesses with ethical manufacturing practices. Our branded products are manufactured in the United States, China, India, Pakistan, etc.
What kind of battery is utilized?

iFu D1 Electric Precision Screwdriver uses 2 units of AAA batteries. These 2 batteries could power D1 to drive approximately 10,000 cell phone screws.

What about shipping and delivery?

Our fulfillment partner fulfills orders within 1 business day (Mon-Fri), a timeline which does not include Weekends or Holidays. Please remember that the delivery of your order is the responsibility of the shipping carrier (USPS, Fedex, DHL etc.). Once a package leaves our fulfillment center, you will be notified by text message or email with a unique tracking no., with which you can track the whereabouts of your order during the whole shipping process.

What is this screwdriver designed for?

D1 is designed for small and delicate items such as quartz watches, cameras, radios, tablet PC, smart phones, drones, joysticks, hard drives, children's toys, eyeglasses etc.
Every new electric screwdriver comes with our industry's best warranty and loyalty program. We provide each original retail purchaser a money-back guarantee of 30 days starting from the day of purchase, and a life-time warranty against defects in materials and workmanship.
This warranty does not cover:

- Unauthorized disassembly.
- Improper follow-up maintenance.
- Installation of components, parts, or accessories not compatible with the screwdriver as sold.
- Damage or failure due to accident, misuse, abuse, or neglect.
- Labor charges for part replacement or changeover.