Design That Makes a Difference
iFu MR1 Li-ion Electric Precision Screwdriver features shadowless LED lights and an aluminum alloy housing, and comes with 24 bits and a 12-piece tool pack, perfect must-have tool kit for your electronics/small appliances, such as quartz watches, cameras, radios, tablet PC, smart phones, drones, joysticks, hard drives, children's toys, glasses etc.
Small, Simplistic yet Powerful
Designed with a minimalistic aesthetic, this ergonomic pencil-sized electric screwdriver has only 2 buttons. Press to start and release to stop. The built-in high density Li-ion battery can be fully charged in 40m, stands by 180 days, and powers the strong, high precision carbon brush motor to go up to 200 rpm for as much as 2 hours (load free).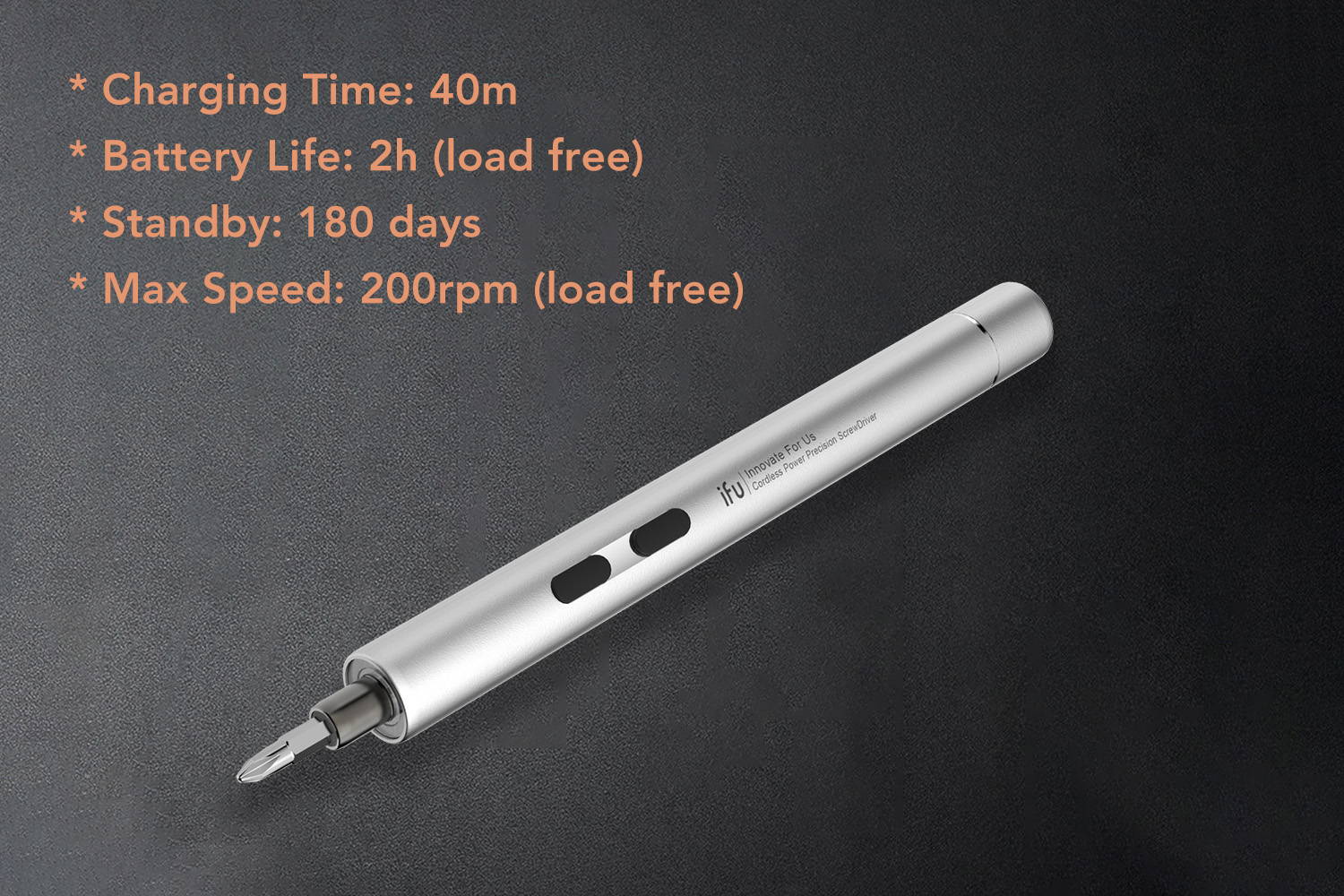 Big Collection of Bits & Accessories
24 magnetic S2 steel bits included, strategically selected for watches, cell phones, cameras, drones, toys, computers and small appliances etc. It also comes with a Magnetic Mat and a 12-piece tool pack, containing tweezers and pry bars of different shapes and sizes, and a whole lot more.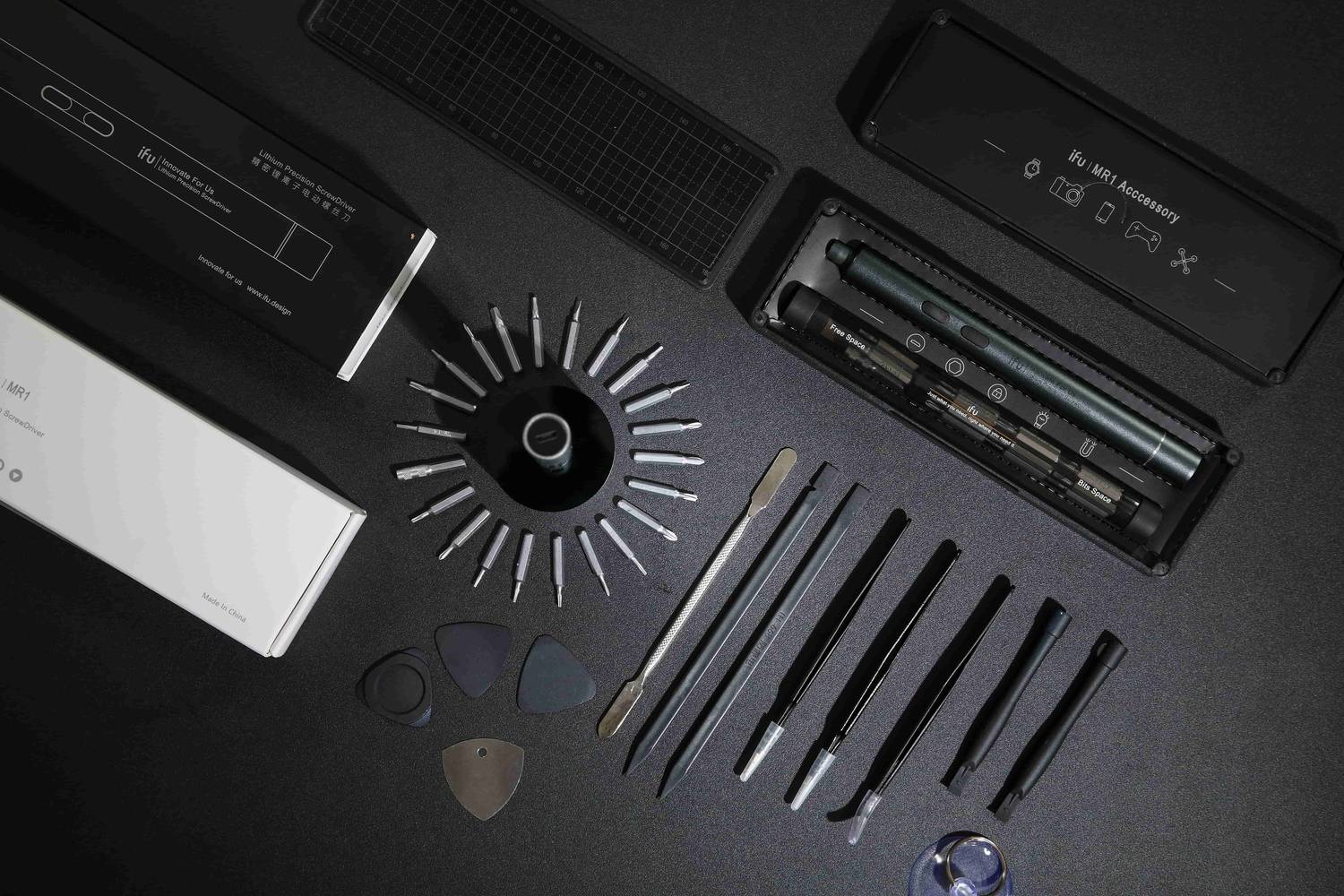 When reaching its max torque, the screwdriver stops automatically, never stripping a single screw or damaging itself. At such time, you can just go ahead and drive it manually. There's nothing to be done to switch MR1 from electric to manual mode.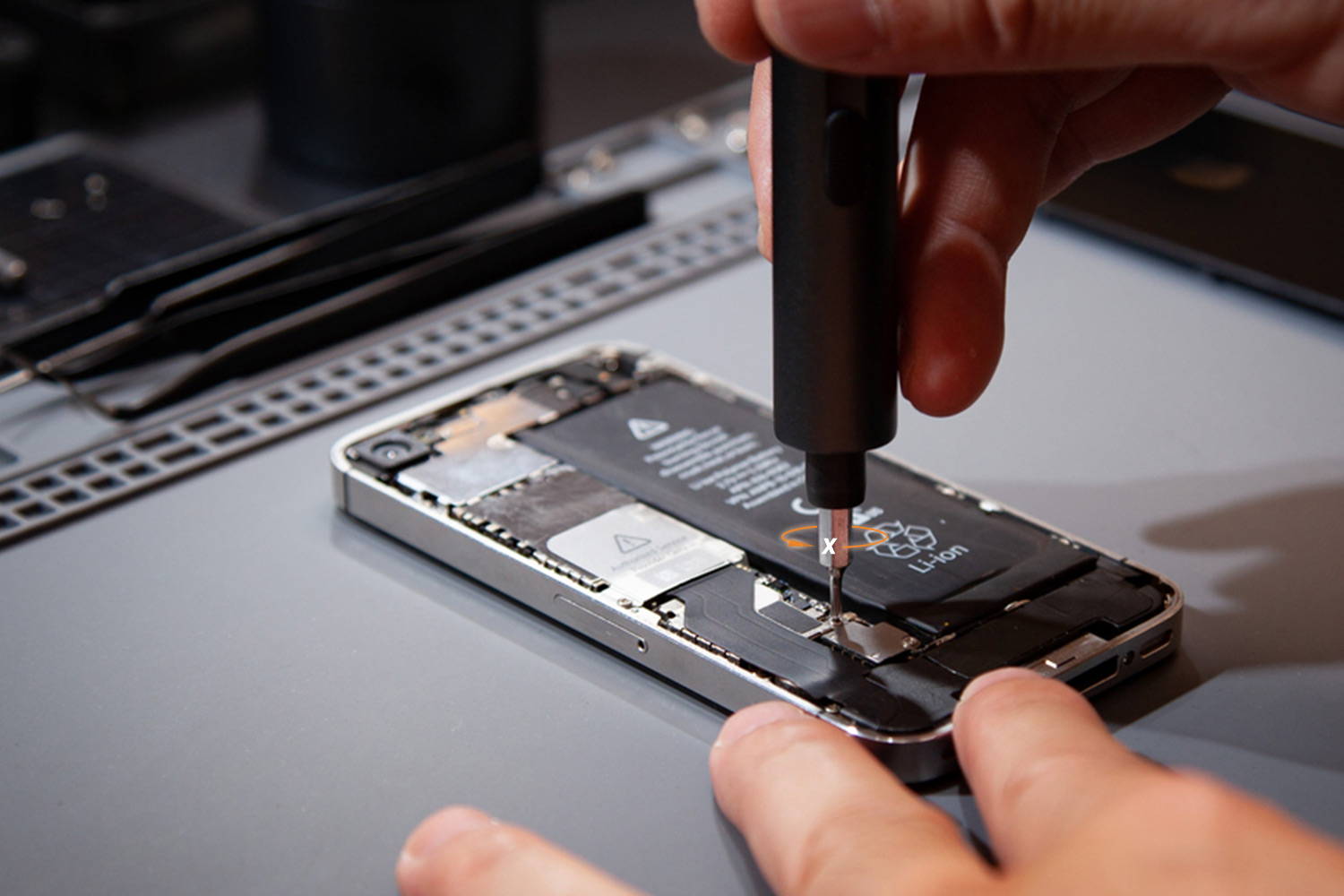 All the bits are strongly magnetic, so you'll never have to worry about losing any bits or screws. In addition, a de/magnetizer is integrated in the Stand/Bits Holder, just in case the magnetism wears off.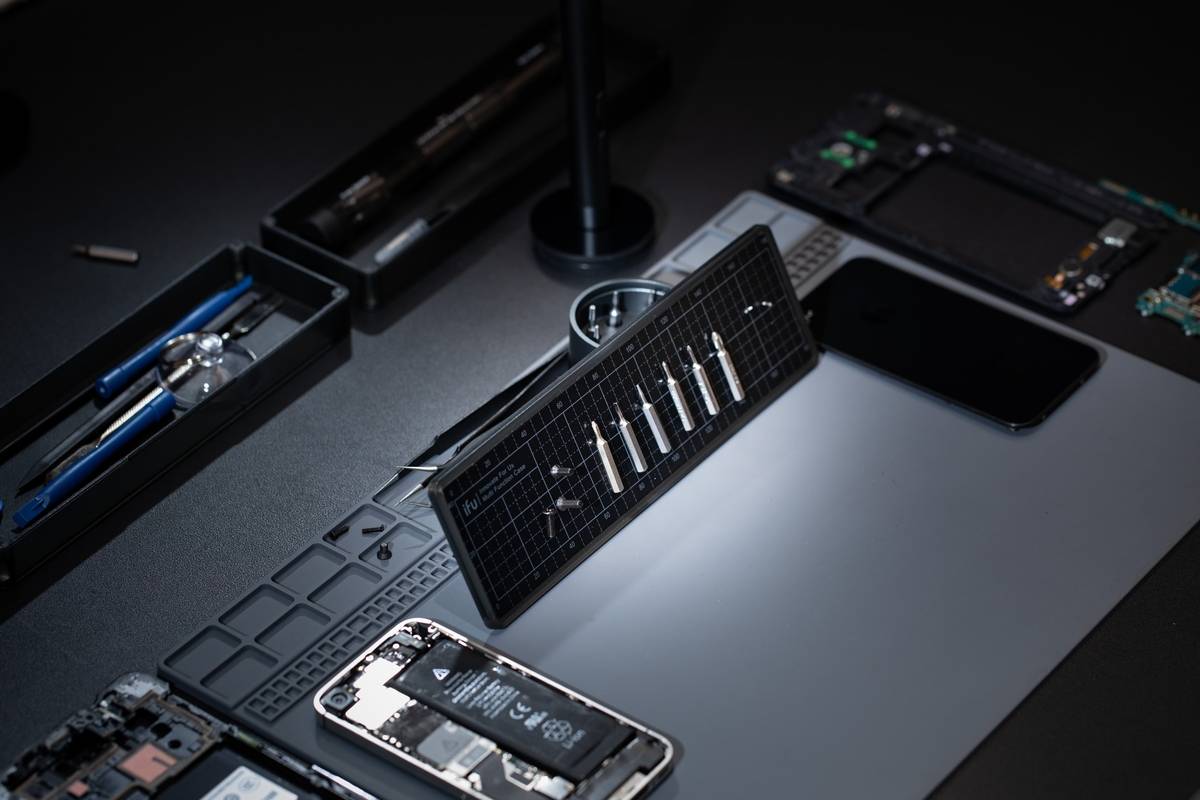 The scalable storage box holds the screwdriver and all the accessories that come with. Its small and compact body fits in everywhere and travels well. The magnetic cover even functions as a work station.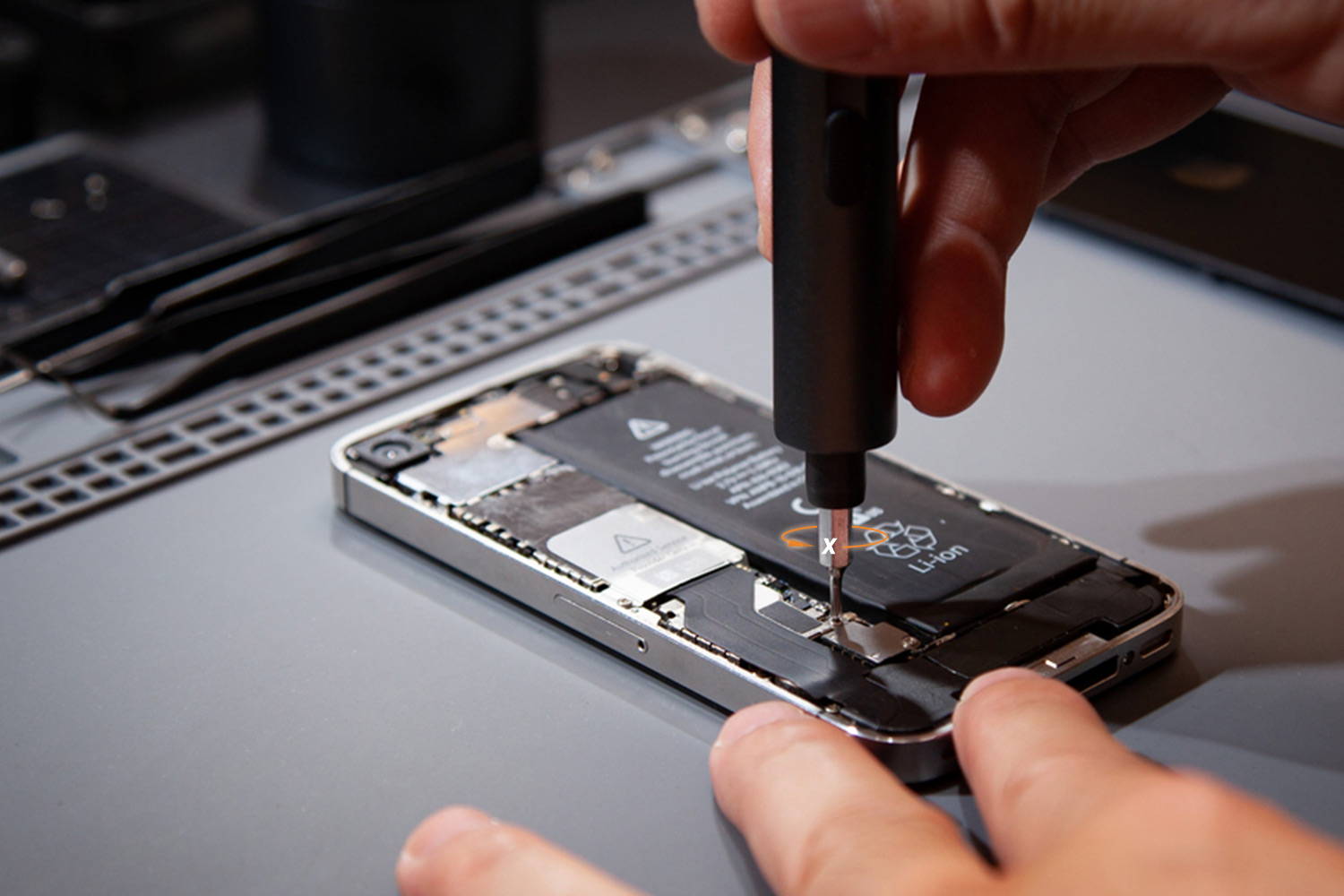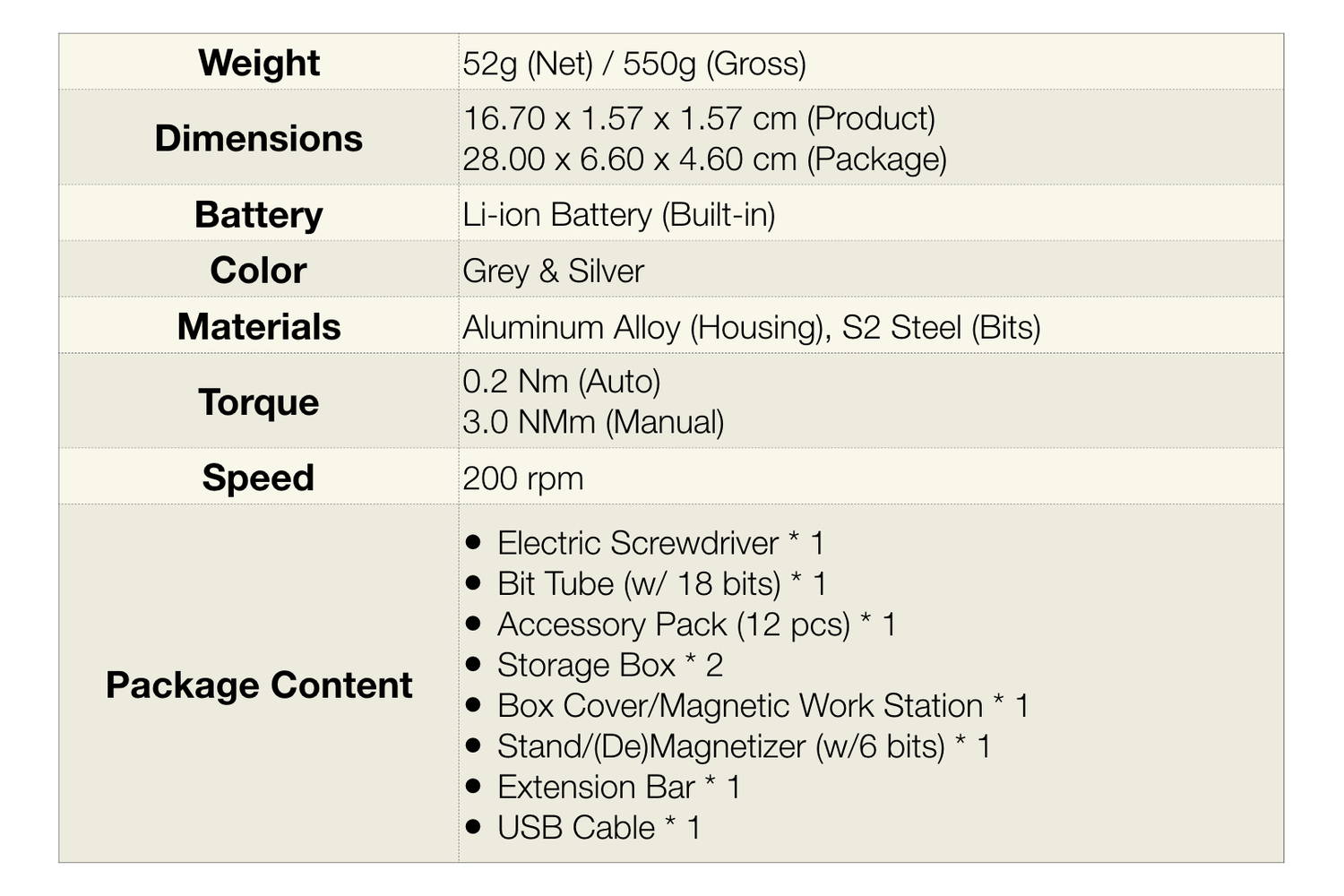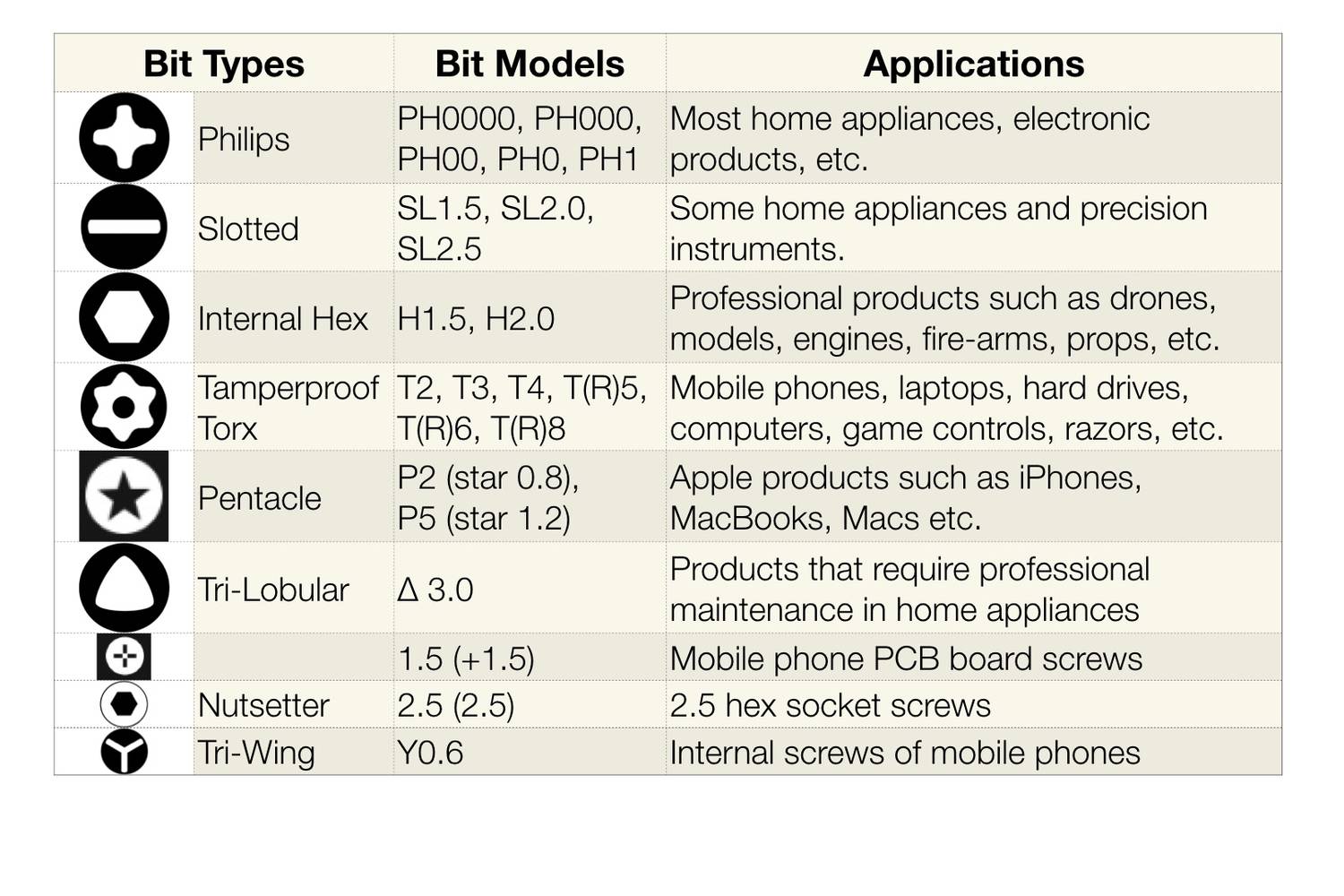 FREQUENTLY ASKED QUESTIONS
Where do your products come from?
We only source merchandise from socially responsible businesses with ethical manufacturing practices. Our branded products are manufactured in the United States, China, India, Pakistan, etc.
What kind of battery is utilized?

BS1 boasts the best power battery there is, ternary lithium battery, which is the battery for electric cars, and much better than the lithium iron phosphate battery commonly found in similar electric tools.

How long does the battery last?

It takes about 40 minutes to charge the battery full. On a single charge, it could drive/undrive approximately 800 precision screws, or stand by for 180 days. The total life span of the battery varies a great deal based on the frequency of charging. But technically it withstand 500 full charging/discharging cycles. That translates into anywhere b/w 2-10 years of life.

Is the battery changeable?
o ensure the safety of users and the reliability of product, our battery is not changeable. Despite that, the battery is more than adequate. Suppose we only use BS1 for 500 charges, that's 500 hours, 30,000 seconds, of use. On average, it takes 5s to drive/remove a screw. So over the life of a BS1, it drives/removes 6,000 screws. For most people, we don't drive/remove that many screws in our whole life time.

What about shipping and delivery?

Our fulfillment partner fulfills orders within 1 business day (Mon-Fri), a timeline which does not include Weekends or Holidays. Please remember that the delivery of your order is the responsibility of the shipping carrier (USPS, Fedex, DHL etc.). Once a package leaves our fulfillment center, you will be notified by text message or email with a unique tracking no., with which you can track the whereabouts of your order during the whole shipping process.

What is this screwdriver designed for?

MR1 is designed for small and delicate items such as quartz watches, cameras, radios, tablet PC, smart phones, drones, joysticks, hard drives, children's toys, eyeglasses etc.
Every new electric screwdriver comes with our industry's best warranty and loyalty program. We provide each original retail purchaser a money-back guarantee of 30 days starting from the day of purchase, and a life-time warranty against defects in materials and workmanship.
This warranty does not cover:

- Unauthorized disassembly.
- Improper follow-up maintenance.
- Installation of components, parts, or accessories not compatible with the screwdriver as sold.
- Damage or failure due to accident, misuse, abuse, or neglect.
- Labor charges for part replacement or changeover.